Around the Mountains
Cycle Tours
Biking Adventures Made Easy
From the urban excitement of Queenstown to the majestic mountains and agricultural hinterland of Southland, we know the Around The Mountains Cycle Trail like the back of our hands.
We have a range of bikes to suit your needs – start with the right bike for the trail and for you.
Choose from our fantastic range of rides from self-guided, one-day rides to fully supported multi-day rides.
The Around the Mountains Sherpa Shuttle offers a full range of support with shuttle transfers along the trail.
Booked this trail through Mike. Can't thank him enough for sorting this for us. Very flexible. He managed to accommodate an extra person on the trip the day before we left. And was happy to change shuttle times to suit us. The biking itself was great. Beautiful scenery. Accomodation along the way was great. All shuttles were exactly on time. So glad we took his advice and stayed Te Anau for two nights. The Lake to Lake trail to Manapouri was excellent.
We had an amazing cycle trip with the help of Mike from 'Around the Mountain Cycle Tours'. Mike was helpful and very organised which made the trip awesome. The views particularly on the first day from Walter Peak to Mavora were stunning. Our stay in Te Anau right across from the lake at the Lakeside Motel was very comfortable. We stopped in Mossburn at the Bracken Hall cafe and had an amazing venison pie. (The best pie ever). Great trip. Thanks Mike
11 friends really enjoyed this ride Around the Mountains in great weather. Mike's service with comfortable shuttles and baggage transfer was excellent. They were on time and also flexible to change times as suited us. We appreciated the care taken with our e-bikes on the trailer including covers to protect them from dust on the ride from Mavora to Te Anau. Mike's recommendation to have 2 nights in Te Anau and ride the Lake to Lake trail to Manapouri was a highlight.
We'd love you to leave us a review.
Start your Around the Mountains adventure with the right bike for the trail and for you. We have a range of bikes available including comfort bikes, mountain bikes, e-bike and kids bikes.
We offer a range of packages from self-guided one-day rides to fully supported multi-day rides.
We can personalise your trip with a range of bikes, different levels of accommodation and number of days you want to ride, or customise the trip to meet your needs.
The Around the Mountains Sherpa Shuttle provides full shuttle services for you, your bike and your luggage.
We can drop you off, pick you up, and help you along the way.
We've created a set of maps to help you along your journey, free to use.
Stay in touch with what's happening on the Around the Mountains trail and be the first to know about deals and new packages.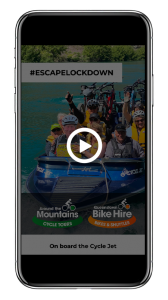 Check out what #VirtualAngus got up to on his recent adventure with us. Not long know until the real Angus will be able to join us!
Read More »
Just like the rest of Auckland, Angus is stuck in lockdown and missing his biking holiday in the South Island. But never one to be put off, he sent #VirtualAngus instead to enjoy the trip in his place.
Read More »
Sign up to our newsletter
We promise not to fill your inbox with spam, just the odd email once in a while, with trail news, updates and EXCLUSIVE DEALS.
If you want help deciding which part of the trail to ride, which bike to hire, or where to stay, give us a call. Our friendly staff have local knowledge and will help you plan your trip to make it a great adventure you won't forget.
​Great, we can't wait to meet you and start you on your biking adventure.